COVID restrictions still apply and so we cannot allow spectators or anyone else to congregate at the club. Therefore, the tournaments have no entry fees and no prizes. Bragging rights only!
The dates of the tournaments are as follows:
| | | | | | |
| --- | --- | --- | --- | --- | --- |
| Event | Signup By | | | Start | End |
| Men's and Women's Singles | Aug 31 | | | Sept 3 | Sept 6 |
| Mixed Doubles | Sept 7 | | | Sept 10 | Sept 12 |
| Men's and Women's Doubles | Sept 14 | | | Sept 17 | Sept 19 |
| | | | | | |
Season End Tournaments for 2021
Signup for all tournaments begin on Monday August 9, 2021. You can register by logging into your membership account, then click on "Register for Adult Programs":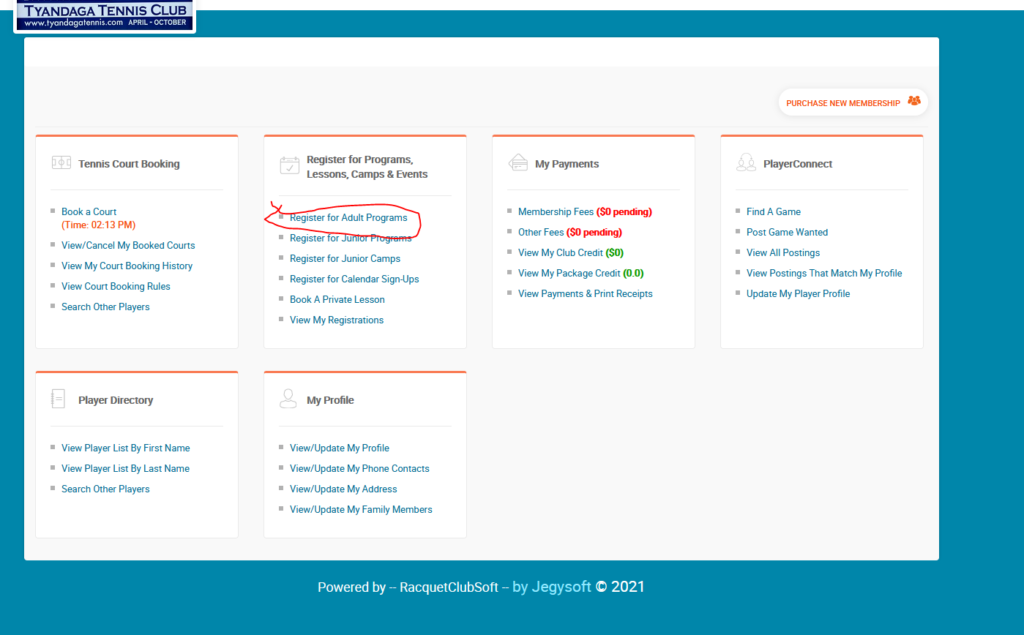 which takes you here:
and then click on "Year End Tournaments" button at top left of page which takes you here: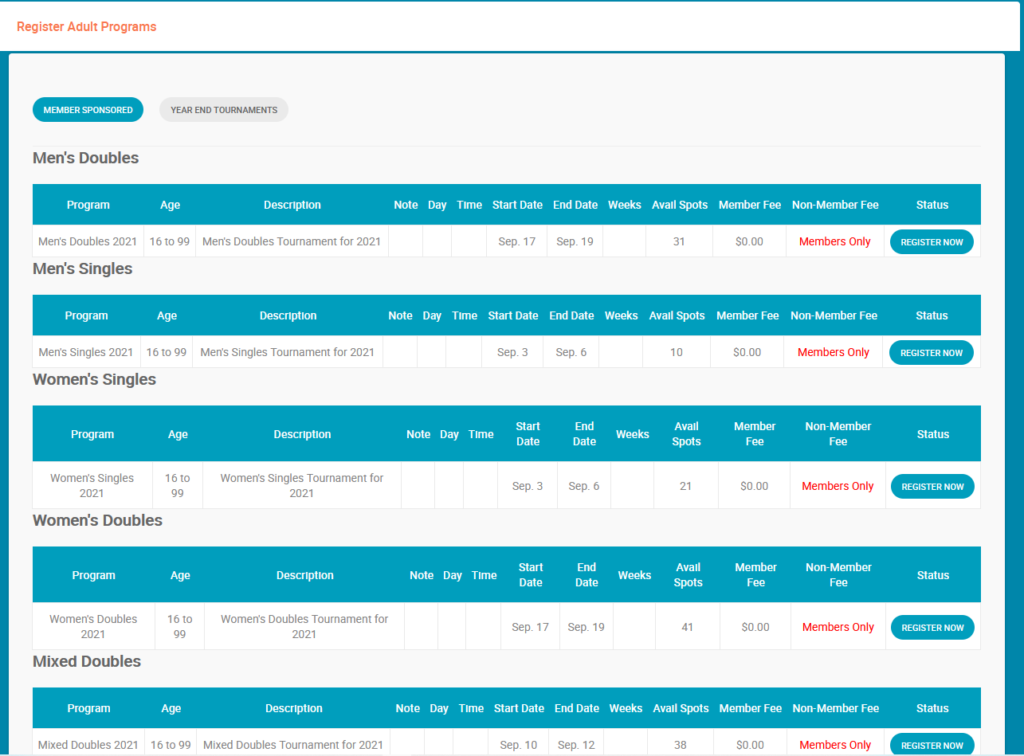 then click on "Register Now" in the "Status" column of your desired tournaments. Then fill out the brief form and be careful not to register for a family member (unless you actually are). If registering for doubles, it would be helpful if you indicated who your partner is in the "Additional Info" field.
Once sign up deadlines are reached, draws for each tournament will be created and published on this web site. The initial matches may need to be completed before Saturday morning of the tournament. Courts 3 and 4 are pre-booked for tournaments at 8:30pm Friday nights in order to help get started as early as possible. But matches can be played as soon as the draw is known.
You can find all the details of the tournaments including the draws here. For each match, contestants must bring a new can of tennis balls. Decide which can they wish to use in that match and then the winner(s) will take the unopened can at the end of the match (which they can bring to the next match).
There will be no consolation rounds. If the registration for any given tournament is "insufficient" then that tournament will be cancelled.
Contestants are responsible for:
Being available from the start thru to the end date of the tournaments for which they are registered. Do not register for a tournament if you expect to be unavailable at any time between the start and end dates.
Significant block bookings have been made during the tournament dates. The club will enter the court booking information. The draw will show planned dates, times and courts. Somebody from the club will be available during the tournaments to assist with putting players on courts.
Emailing the scores/results of their matches to president@tyandagatennis.com.
The club has blocked off the courts for the weekends of tournament play. As tournament matches become scheduled the club will make more courts available to members not participating in the tournaments.